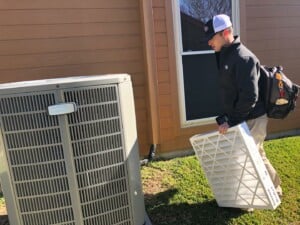 If you find the air conditioning system in your home making odd noises, if it is failing to maintain temperature, or if you are experiencing spikes in your energy bills; it may be time to have a professional assess your HVAC system. Air Conditioning systems may fail for a wide variety of reasons. Luckily there are options for those seeking AC repair in Frisco TX.
For some, the first instinct may be to call for help, but there are a few troubleshooting steps that a homeowner can take that may potentially solve the problem without professional help.  Classic Heating and Air in Frisco, Texas can be called at 214-310-2665 for guidance, but all homeowners will benefit from some basic knowledge of HVAC systems and basic troubleshooting.
Problems You Can Solve
When was the last time you gave any thought to your HVAC system or performed any inspection of its components outside of turning it off and on? It is important to be informed of how your home's system works and in return you will save time, money, and energy. Here are a few helpful tricks for at-home AC repair Frisco TX.
Thermostat Settings
The first step in determining if a system is functioning properly or not is to go and check the thermostat itself. Is the thermostat in cooling mode and not "off"? Has the thermostat reached the set point?  Is the temperature adjusted down below the ambient indoor temperature in order to trigger cooling operation?  Has the set point been changed to higher than normal?
Often homeowners' thermostats are ignored until they feel uncomfortable and upon examination, a setting has been changed and simply restoring the desired settings cures the "problem".  During cooling season, simply ensure your thermostat is set to AUTO or COOL, adjust the temperature to your desired set point and sit back and feel the cool air.
Dirty Air Filter
Another often overlooked item is the air filter for the indoor unit.  We recommend a monthly inspection of the indoor filter and filters with visible dust and dirt build up should be changed immediately.  If your home is struggling to reach the set point on the thermostat, a dirty filter could be the culprit. The filter serves as the first line of protection against particulate matter in the air we breathe but once clogged, the volume of air passing through the indoor equipment is reduced and problems ensue.
Inspect your filters monthly and replace filters of the one-inch variety every three months regardless of visible condition. Classic stocks nearly every type of filter and will deliver to you free of charge. The best solution is our "World Famous Classic Care Guarantee" that provides regular tune-ups, maintenance and FREE filters! An ounce of prevention is worth a pound of cure! Call Classic Heating and Air at 214-310-2665 to schedule your Classic "Clean, Check and Tune" or to get more details about our Classic Care Guarantee.
Outside Unit Needs Maintenance
Your condensing unit is not immune to problems.  It is important to step outside and assess the outside unit for any debris that may have accumulated on the condenser coil or if there are obstructions to airflow through the condensing unit. The condenser fan pulls air through the condenser coils and consequently dirt, leaves, grass, etc. get sucked onto the coil and impede airflow. Reduced airflow through the outdoor unit creates multiple problems within the system so take time to inspect the condensing unit on a regular basis.
Unit Size
A very common misconception is "my system is too small."  This is very seldom the case.  When a homeowner feels their equipment is undersized it is usually the result of a malfunction in operation or design/set up.  Every aspect of an HVAC system contributes to its overall performance and neglect in one area can diminish the performance of the entire home. Consulting with Classic Heating and Air's expert technicians can help you understand sizing and what is the best solution for your home/space.
When To Call For Help
Aside from the above, most issues will need the attention a professional. Contact Classic Heating and Air by calling 214-310-2665  for 24/7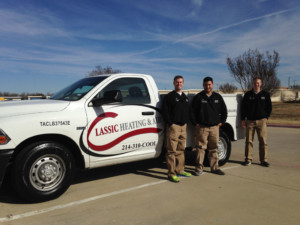 support and help.
Once you have taken the above steps to troubleshoot your cooling dilemma, you may be experiencing one of the problems below. Classic can remedy any of your AC repair Frisco TX needs.
Fan / Motor Failures
Indoor and outdoor fans/motors involve high voltage and professional help will be needed. Our technicians are equipped to replace/repair these components the same day in nearly every situation.
Refrigerant Leaks
Refrigerant is the vehicle for heat transfer in an HVAC system.  Refrigerant can only be purchased and handled by EPA licensed individuals.  All Classic technicians are EPA certified and can diagnose your problem with certainty.
Call us at 214-310-2665 for immediate assistance
Broken or Damaged Ducts
The ducts transport and distribute conditioned air into your home. If there are tears or damage to even one of the ducts, the entire home's comfort can greatly suffer. Ducts can become damaged over time as a result of construction, rodents, or age/deterioration.
Compressor Failures
The compressor is the heart of the system.  When compressors fail, cooling will stop and a professional will be in order. Classic's experienced technicians will be able to not only make an accurate diagnosis but determine WHY the failure occurred in the first place. This is extremely important in that a compressor failure is often only the consequence of a bigger problem.
When in Doubt
If you or your family are ever need of honest, professional guidance on how to solve your HVAC problems, just call Classic Heating and Air in Frisco, Texas. We are Frisco's most recognized team for AC repair Frisco TX. Our NATE certified technicians are available to help, 24/7. Putting customers first is a non-negotiable at Classic.  We will perform an accurate diagnosis and discuss options and costs with you before performing any work and back the work with our 100% satisfaction guarantee. Give us a call at 214-310-2665.
We will work with you to ensure we EXCEED your expectations.