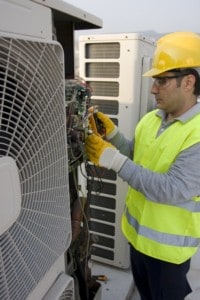 When it comes to heating and cooling issues in a home or business, your best option is to call on an HVAC technician. Typically, heating and cooling systems are out of sight, out of mind for most homeowners. Yet when the air conditioning stops running during a mid-summer day, or the heat fails in the middle of a snowstorm, the average homeowner does not know how to make repairs themselves. Working as an HVAC technician is a career that requires hard work, critical thinking, and a desire to serve others. It's a gratifying job with great benefits.
What is an HVAC Technician, and What Do They Do?
HVAC, short for heating, ventilation, and air conditioning, is the overarching term for the systems that control our homes' indoor climate and air quality. HVAC technicians are specifically trained in troubleshooting, repairing, and installing these systems. Unlike a general contractor or maintenance technician, the HVAC technician is a specialist in the area of air quality and comfort.
Most technicians begin their career with exposure to many diverse systems and work environments but as they progress in their career, they often begin to specialize in a specific area of maintenance or service. For example, an individual can focus on air conditioning and heating repairs rather than installations. By emphasizing and developing a specific skill set, individuals become an "expert" in that area. There remains however, a place for "generalists" in HVAC too. Technicians with a broad knowledge base and varied experience are comfortable in any field situation with any type of equipment.
A technician may choose to focus on one specific environment or job type. This can include new construction, residential, commercial and industrial work. They are often tasked with the oversight of installations, performing diagnostics and providing technical support, all the while staying current with changes in HVAC codes. Versatility and adaptability enable technicians to succeed in any environment they find themselves in.
Experts in the field share a few essential skills, the first of which is communication. In becoming a technician, a lot of mechanical and technical language is learned, a language not often understood by customers. When working with clients, a strong HVAC technician will effectively take the industry's complex language and translate it into language a homeowner/business owner will understand. The skill of communication often comes naturally but can also be developed with time.
Top HVAC technicians are also highly consistent individuals. From troubleshooting procedures to maintenance regiments to daily attendance, consistency goes hand in hand with excellence. HVAC work can require long hours and a demanding schedule but focus and service to customers must remain constant.
Why Become an HVAC Technician?
There is great stability in becoming an HVAC technician. The industry is always growing and evolving and the demand for quality individuals is unending. If we continue to condition the climate inside our homes and places of business, there will be a need for HVAC technicians. With the uncertainties surrounding so many career paths, HVAC provides stability in even the most challenging economic times.
The role of HVAC technician leads to many other career paths within the industry. A career in HVAC is not limited to installing and repairing air conditioning units. Career paths often progress to field management, estimating, construction management and even engineering positions. Whatever path is chosen, rest assured, a top tier tech is always in demand!
What about the Drawbacks?
Every job has its obstacles, and HVAC work is no different. Any construction or maintenance environment is challenging because of the required level of physical activity. HVAC technicians are on their feet all day, every day and often in extreme climates. Our day to day tasks require lots of lifting, climbing and crouching. This level of physical activity can keep a body youthful if managed correctly but can wear a body out quickly when abused.
A second challenge is that no amount of classroom time can develop an individual into a competent technician. Time in the field is essential to learning and understanding the intricacies of heating, ventilation, and air conditioning. Many will begin their career as an apprentice or a "helper" in order to gain experience with multiple types of equipment in a variety of situations while under the direct supervision of a seasoned tech.
Path Towards Becoming an HVAC Technician
There are a few paths to becoming an HVAC technician. The minimum requirement for industry leading companies is a high school diploma or equivalent certification. From there, an individual can choose between on-the-job training or apprenticeship, or enroll in an accredited HVAC certification program.
Outside state and local certification programs there are additional certifications including EPA and North American Technician Excellence (NATE). EPA certification is a requirement in order to handle refrigerants of any kind and is often part of any accredited collegiate HVAC program.
Benefits of Working with an Expert HVAC Technician
Working with a company that employs expert HVAC technicians ensures the job gets done right the first time. Aside from simply getting the job done, an expert will provide a holistic assessment that will provide for improved air quality, energy efficiency, and comfort. Technicians can diagnose WHAT has happened, experts diagnose WHY.
HVAC Technicians Sound Great
HVAC systems can be complicated and often take a highly skilled, highly trained technician to make repairs and improve home/business environments. Though often unnoticed, HVAC technicians are an integral part of our communities and society. Our industry relies on the integrity and professionalism of our technicians to make air conditioning repairs, address heating and cooling concerns, increase air quality, and install and maintain equipment.
If you have any questions or are interested in learning more about HVAC, contact Classic Heating and Air in Plano, Texas at 214-310-2665. They can help with any of your needs.